WE HAVE A LITTER DUE LATE JUNE. 
 PLEASE CONTACT US FOR ADDITIONAL INFORMATION.     BEFORE PUPPIES ARE READY TO LEAVE THEY WILL HAVE A COMPLETE VET EXAM AND MICROCHIP.
WE DO HAVE AN APPLICATION WHICH REQUIRES A DEPOSIT. ONCE DEPOSIT IS MADE YOU ARE GUARRANTEED A HEALTHY PUPPY FROM THIS LITTER OR YOUR DEPOSIT IS RETURNED.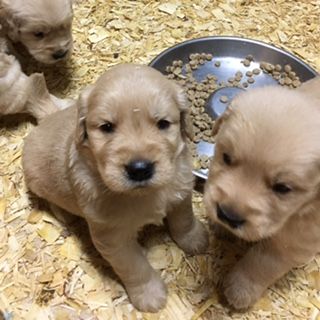 thinking of a golden puppy?
What to expect from us?
MUCH TIME AND ENERGY IN YEARS PAST BEING EVER SO CAREFUL TO STAY TRUE TO GOALS, LISTED BELOW IS JUST GENERAL INFORMATION ON WHAT TO EXPECT WHEN YOU PURCHASE A PUPPY FROM US.
WE WATCH OUR PUPPIES GROW TO BE ADULTS , SPEND QUALITY TIME WITH THEM AND MAKE SURE THEY ARE OF SOUND MIND AND BODY BEFORE WE EVER MAKE THE DECISION TO BREED , HEALTH CLEARANCES SUCH AS HIPS, ELBOWS, HEART AND EYES ARE ALWAYS DONE. DNA MARKERS ARE NOW AVAILABLE. BITCHES ARE NEVER BRED BEFORE AGE TWO. WITH THAT SAID WE HAVE A SMALL NUMBER OF DOGS HERE. WE FEEL THERE IS A STRICT LIMIT TO TIME AVAILABLE FOR THEIR ATTENTION AND PROPER CARE, MENTALY AND PHYSICALY.
WHEN A PUPPY LEAVES FOR HIS/HER FOREVER HOME, SAID PUPPY WILL HAVE CORE VACCINES UP TO DATE, WORMING, FECAL EXAM, COMPLETE VET EXAM WITH A MICROCHIP. OUR PUPPIES WILL HAVE A VELCRO COLORED COLLAR WHICH MATCHES THEIR VET EXAM AND MICROCHIP. OWNERS WILL GO HOME WITH A SMALL BAG OF FOOD, BASIC TRAINING INFORMATION AND A LIST OF RECOMMENDED FOODS. WE PROVIDE A FULL TWO YEAR HEALTH CONTRACT, WE DO NOT ASK THAT YOU PURCHASE A PARTICULAR VITAMIN OR ADDITIVE. WE PROVIDE COPY'S OF HEALTH CLEARANCES AS WELL.
PUPPIES ARE RAISED IN A CLEAN INDOOR, TEMPERATURE MAINTAINED ENVIRONMENT WITH LOADS OF NOISE AND EXPOSURE TO LIFE OUTSIDE THE WHELPING BOX.
WE TAKE DEPOSIT'S TO HOLD PUPPIES. WE DO NOT TAKE MORE DEPOSITS THAN PUPPIES WE HAVE AVAILABLE. IF FOR A HEALTH REASON AT 6 WEEKS WE DO NOT HAVE A PUPPY FOR YOU, THAT DEPOSIT WILL BE RETURNED UNLESS YOU AGREE TO WAIT UNTIL THE NEXT LITTER. THE ORDER WE RECEIVE A DEPOSIT IS THE ORDER PUPPY'S ARE CHOSEN WHICH IS AFTER VET EXAMS.
WHEN YOU ARE READY TO MAKE A COMMITMENT PLEASE LET US KNOW. WHEN A DEPOSIT IS GIVEN YOU WILL ADD TO THE CHECK MEMO WHAT PICK/SEX YOU ARE EXPECTING, FOR EXAMPLE 3RD PICK FEMALE. THIS WAY THERE IS NO CONFUSION OR MISUNDERSTANDINGS.
THANK YOU FOR TAKING THE TIME TO READ THIS AND I HOPE IT ANSWERS MOST OF YOUR QUESTIONS.